Playday.
It's the national day for play, which is ultimately a celebration of children's right to play, and a campaign that highlights the importance of play in children's lives. This year it falls on Wednesday 1st August, so it's time to start planning what you might do with your youngsters to celebrate the occasion!
Most of us are very aware of the headlines about the rise in childhood obesity so it's a great way to focus on getting children more active and taking on some form of physical exercise on a regular basis. Now that the school holidays are here, getting outdoors and active is an ideal way to maintain fitness and tear children away from those electronic devices!
When you're the parent of a child with a lung condition such as asthma, physical exercise can require a little more thought. Particular times of the day, specific activities and the heat can cause symptoms of breathlessness to occur, and you may find your child starts to cough or wheeze, and experience a tight chest.
But even with a lung condition, it's important for your child to remain fit and active – it's just about getting the right balance and being fully prepared.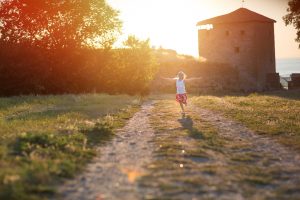 There are some steps you can take to be sure you and your child are prepared and ready for action when heading outdoors and exercising over the summer holidays.
Know the triggers Being aware of what causes your child's symptoms to flare up means you can be more prepared in case they are exposed to their particular triggers. If your child has recently been diagnosed with a lung condition and you aren't sure of the exact triggers yet, try keeping a diary of activities and symptoms to help spot any patterns.

Exercise as a trigger Your child might notice that exercise brings on symptoms. This is because when they breathe in through their mouth, the air is colder and drier (rather than in through their nose, when the air is warmed up in the nostrils). In some people with asthma, the airways are sensitive to these changes in temperature and humidity and the airways react by getting narrower.

Have a plan You should have a written action plan for your child – make sure you are fully up to speed with what the plan is, and you've shared it with anyone providing childcare for your child.
Here are our top tips for managing your child's lung condition while exercising in the warmer weather:
Don't exercise during the intense heat of the day. This means avoiding 11am to 3pm to exercise outdoors.
Carry your child's blue reliever inhaler with you if they have been prescribed one wherever you go.
Oversee your child using their preventer inhaler as prescribed.
Don't leave the inhalers in direct sunlight or somewhere that will get especially hot (a window sill or car glove compartment are good examples). This can actually affect the performance of the inhalers, meaning they don't work as well as they should.

If your child suffers from hayfever then you need to manage the allergy well as hayfever symptoms can exacerbate your asthma symptoms too.

Manage your child's asthma, be prepared and enjoy the summer sunshine.