Physical therapists – or physiotherapists as they're more commonly called in the UK – provide services that develop, maintain and restore people's maximum movement and functional ability.
They're able to support people at any stage of life, especially when movement and function are threatened by diseases, ageing, injury, disorders, conditions or other environmental factors.
Last weekend saw a celebration of the benefits of physical therapy with World Physical Therapy Day that takes place annually on 8th September, and this year's theme is "Movement for Health". It's focusing on the vital contribution the profession of physiotherapy makes to keeping people well, mobile and independent.
So getting active and staying active is what it's all about this year – and not just for your physical health but for you mental wellbeing too! There are a number of ways in which taking part in physical activity is not only beneficial for your body – maintaining a healthy heart and strengthening your bones and joints are just two of them – but being physically active can also boost your mental health. With an estimated 1 in 4 people experiencing a mental health issue at some point in their life, it's something we should all be aware of and take steps to prevent.
Evidence supports the fact that exercise can be used as a treatment for the emergence of depression, and if you're working with a qualified healthcare professional, such as a physiotherapist like myself to achieve your goals, the outcome is much more likely to be successful. Because we are qualified experts in exercise and movement, we really are ideally
placed to provide expert tips on how to develop your physical health, reduce any anxiety symptoms you may have and ultimately improve your quality of life.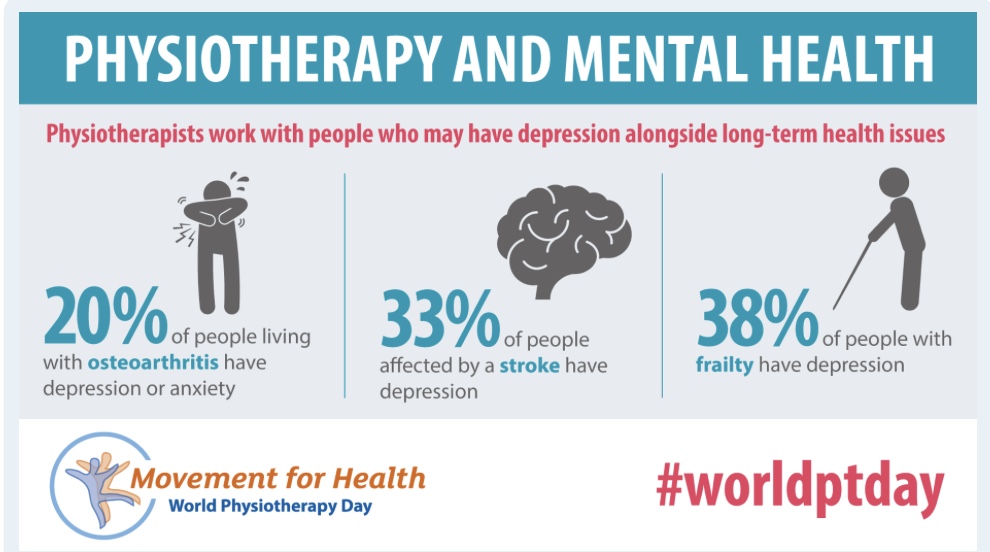 Exercise is incredibly important. If you struggle to keep active then working with a physiotherapist and following our advice and exercise programmes will help you maximise your strength and mobility, and support a greater level of independence – especially if you suffer from a long term health condition.
But how much is enough exercise?
And what should you be doing?
This infographic is a great point of reference: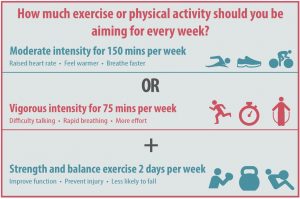 Our top tips for getting moving are:
Find an activity you enjoy, and aim to have fun! That way you're much more likely to stick with it for the long term.

Investing in your health by becoming more active is a lifestyle choice, so making it a realistic one is key to long term success.

Try writing down your commitment to yourself. Put it up somewhere you can see it as a gentle reminder to keep going when your motivation wanes!

Start small. When you're just beginning to exercise you're not going to be able to workout at the same level as your friend who's been a daily visitor to the gym for years. Keep your expectations realistic to avoid any disappointment.

Make it a joint effort. Find someone to do your activities with. That way on the days where you might not feel like doing anything you can be encouraged by your friend. Sometimes those days where you least felt like it at the start can end up being the best fun in the end!

If you have children get them involved too. Find activities that they enjoy such as cycling or swimming that the whole family can do together.

Mix it up a little. Variety keeps things interesting and also more enjoyable. There are so many different types of exercise – some of which may not seem like you're working out at all!

Sign up for something. Having a goal to work towards can make it easier to stay motivated. You could try the NHS

Couch to 5k

programme which recognises beginning from a standing start and slowly builds up your fitness.

If you fall off the wagon, don't give up! Every day is a new day. Think of it as a clean slate, and start again.
Make the commitment to your physical and mental health today by getting active – and staying active!