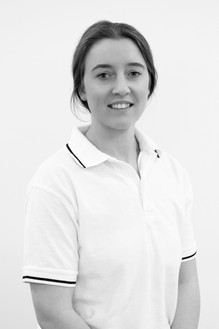 We've recently welcomed Gemma to our team to add further specialist skills to those already offered at Air Physiotherapy.
We'd like to introduce Gemma to you all!
We asked Gemma to tell us a bit about herself, and here's what she said:
After graduating from university, I had no idea what I wanted to specialise in. I started my junior rotations at Chelsea and Westminster Hospital with an open mind, knowing this option would give me exposure to all kinds of different conditions and in different areas of physiotherapy.
I'll take you back to when it was my first day at work… I am petrified. I am working in one of the London top NHS hospitals. I was 21 at the time and had just returned from travelling around South East Asia with my best friend. But this was the start of a very different adventure and this time I wasn't excited, I was scared. I was the new girl. I had to start all over again.
The first few weeks were tough. I felt like I had been thrown in at the deep end. Respiratory competencies, mandatory training, weekend working, paediatric on-call, I could go on…
Medical rehabilitation was my first rotation which introduced me to a complete mix of patients. There was a never ending list of new conditions to learn about as well as different medications and their side effects. The days passed quickly in a blur of caffeine, excitement, new experiences, good outcomes, difficult days, long days and even longer lonely nights in the respiratory on-call room hoping that I wouldn't get called in.
I completed all my junior rotations, rotating through all the major specialities Chelsea and Westminster had to offer, and that was when it became apparent: it was everywhere.
It didn't distinguish between, age, race, religion or gender. It didn't matter if you were a top class city lawyer or a new mother; if you had just turned 18 or you were about to celebrate your 60th wedding anniversary. For me, it didn't matter if I was working in the outpatient department or on the intensive care unit. That's because Cancer doesn't discriminate; it is a disease that can and does affect us all, and I was seeing it all the time.
It wasn't until I started working with these patients that I appreciated the enormity of the disease. Cancer is a disease that affects 1 in 2 people in the UK. There are more than 200 types of Cancer and, dependent on the type, stage and grade, a whole host of different treatments available. Thanks to research there are more people being cured of cancer than ever before. However evidence shows that a large portion of these survivors have unmet physical needs, many of which may be amenable to physiotherapy.
I continued to develop my skills as a therapist but decided to focus on cancer care. I made the move from the NHS to the private sector and started working for one of London's top private hospitals specialising in Cancer rehabilitation. Over the years, I have seen the positive effects exercise can have on a patient's quality of life pre, during and post treatment.
During my time working with Cancer patients I noticed they would commonly experience unpleasant symptoms related to the cancer or its treatment, such as pain, hot flushes, nausea, fatigue, vomiting and a dry mouth. Management of these symptoms can lead to improved physical function, psychological well-being and quality of life. With an understanding of the importance of symptom management, I completed my acupuncture qualification, enabling me to provide safe and effective treatment of these symptoms. Acupuncture is a treatment option that is free from the many unpleasant side effects resulting from medications, making it a great option for many people.
Having worked in cancer care for many years, I recognise that a cancer diagnosis can have a devastating effect, not just on the individual, but also on your family and friends. Cancer treatments are extremely complex, they can be fragmented, institutionalised and reactive. All of this can lead to a sense of uncertainty and you can feel like you're losing control.
At Air Physiotherapy, we are here for you every step of the way: we will help you maximise your strength before you begin treatment; provide support to manage and relieve any symptoms during treatment; and help you build your strength,independence and function after treatment.
Cancer is a journey, but you don't have to walk the road alone.