As we start to come out of the more severe restrictions of lockdown, there's the welcome news that more facilities are able to open and many of us can begin to see more people. Even those who are considered more vulnerable such as those who have been shielding will be able to enjoy more freedom from the 4th July and shielding will end altogether from the end of July. Many people are now wondering: has the time come to invest in a face mask?
We've spoken to many within the shielding category – many of whom we've been supporting throughout the crisis – who are understandably concerned about heading back out into the world and potentially putting themselves at risk.
Are face masks a must?
A number of people have asked us this question!
There still doesn't appear to be any concrete evidence on just how effective masks are, aside from guidance that wearing a mask may prevent someone who has the virus from passing it on to others. The WHO has some excellent advice on when and how to wear a mask here.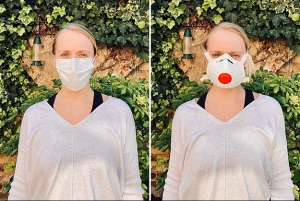 We've talked before about what different types of masks there are and how important it is to use them correctly. And from 15th June it became mandatory to wear face coverings on public transport. But therein lies the problem: it's especially important for those with chronic lung conditions to protect themselves but many people who have breathing difficulties struggle to tolerate wearing a mask….
Covering your mouth and nose when you breathe feels different, and can be especially challenging when you have a chronic respiratory condition like asthma or COPD. There are a couple of reasons for this – not only does the physical barrier of the mask make inhaling enough air feel more difficult, as you exhale the mask becomes moist, so the air you're breathing in feels moister and warmer too. Throw a compromised respiratory system into the equation and wearing a mask can feel downright suffocating.
Top tips
Stay home as much as possible
If you have a bad lung condition it's advisable to limit the times when you're out and about, and to check the weather as many people with a lung condition find it more difficult to breathe when it's hot and humid. It's important to remember that people with breathing pattern disorder don't always have an underlying condition so may not be aware that wearing a mask may feel more restrictive than for other people.
Choose your face mask carefully
Wearing a mask takes some getting used to for everyone – but even more so if you have a lung condition. Make sure your mask is comfortable to wear and fits well. For example, if you wear glasses and they steam up with your mask on then it's too loose. You may want to consider a loose scarf, snood or visor if you are really struggling as they allow more air to come through at the bottom. But please bear in mind that it's not clear how effective they are at stopping germs from being passed on.
What if I cough into the mask?
This is fine – but try to cough into your elbow, especially if you're wearing a fabric face mask as the force of your cough can propel the droplets outside of the mask. And please remember to take care when handling the mask (you should be doing so at all times, not just after sneezing), washing your hands before & after every time you touch it, and change it when it becomes very moist.
Consider a public transport exemption
You can apply for public transport exemption cards for masks if your condition means wearing one isn't appropriate. For example, Arriva who run bus services up and down the UK have some useful information here and TFL have a similar option where you can download your own exemption card online. Most public transport services offer something so head over to the website of your local service to learn more.
If you have any queries about the best options for face masks or need advice on how to breathe more easily, please do get in touch hello@airphysiotherapy.co.uk.