Five respiratory physiotherapists, two locations, and one common goal….
… Air Physiotherapy is here to help you breathe better and move more!
As we've seen the back of the first month of 2021, we thought it fitting to take some time to tell you all about the new additions to our team here at Air Physiotherapy, who are helping us continue to treat patients with the respiratory physiotherapy they need.
As a team, we are seeing lots of patients with long-covid and each of our physios listed below are delivering specialist help and support for these patients.
As respiratory physiotherapists, we are extremely well placed to help long-covid patients owing to our extensive knowledge of the respiratory system, our experience in pulmonary and cardiac rehabilitation, and our knowledge of fatigue management. We understand the complexity of the condition and are drawing on the most up to date evidence and recommendations to help our patients with their recovery.
Here is a little more about our fabulous team:
Welcome to Helene Bellas!
Originally qualifying as a physiotherapist in South Africa in 2002, Helen has worked for the last 16 years at various NHS trusts across London and in the private sector for the last 8 years.
Chronic respiratory disease management is Helene's specialist area of expertise, and she has special interests in chronic cough, breathing pattern disorders and exercise in lung disease. She has treated patients in pulmonary rehabilitation and various outpatient respiratory clinics ( COPD, asthma, lung fibrosis, cough, breathlessness and bronchiectasis), and makes an excellent addition to our team.
Lizzie Grillo joins the team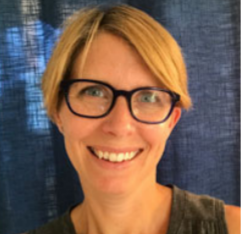 Lizzie has extensive experience in the management of respiratory conditions, having worked in as a highly specialists physiotherapist for over 15 years at The Royal Brompton in London. Complex airway clearance techniques and breathing pattern disorders, including
hyperventilation syndrome and upper airway conditions are Lizzie's particular focus.
As well as this vast clinical experience, Lizzie also has an MSc in cardiorespiratory physiotherapy from University College London and has recently developed her research experience through  becoming a clinical fellow with the National Institute for Health and Research (NIHR). She has spoken both nationally and internationally at various teaching events and conferences.
And welcome Stephanie Grefsheim too!
Beginning her physiotherapy career at the Harefield Hospital, Stephanie developed her skills with a specialist interest in Cardiorespiratory physiotherapy.
Stephanie joins us after building her career at the world renowned Royal Brompton Hospital, where her skills were called upon within the Pulmonary Rehabilitation service for patients with chronic lung conditions. Stephanie also has excellent experience within an outpatient setting, supporting patients with breathing pattern problems.
Stephanie enjoys teaching people airway clearance techniques and has a special interest in breathing pattern dysfunction. Her personal experience with yoga and singing is also put to good use as she incorporates them both into her work with patients.
They join Karen Dobson..
Karen has been with Air Physiotherapy for more than 2 years now, bringing her valuable experience in
complex causes of breathlessness, complex airway clearance and the long-term management of chronic respiratory conditions to our patients.
She sees a large proportion of patients with breathing pattern disorders and chronic respiratory or cardiac disease.
Karen runs our clinic at 77 Wimpole Street, completes home visits in central London and runs virtual clinics.
And of course, not forgetting Emily Lockwood!
The founder of Air Physiotherapy, Emily has ten years experience in the respiratory field and has worked at the UK's leading heart and lung hospital, The Royal Brompton Hospital, since 2012.
She has a specialist interest in complex breathing disorders and causes of breathlessness. In her NHS work, she has helped establish physiotherapy treatment pathways for those with exercise induced laryngeal obstruction and excessive dynamic airway collapse.
More recently, Emily has been applying her skills to help those with post-COVID19 symptoms such as ongoing breathlessness and fatigue.
The A (ir Physiotherapy) team!
We are indeed the A team! The skillset our team brings to our respiratory physiotherapy services mean we can deliver exceptional specialist care according to the exact needs of each patient.
We are all members of the Chartered Society of Physiotherapy (CSP), The Association of Chartered Physiotherapists in Respiratory Care (ACPRC) and are registered with the Health and Care Professions Council (HCPC).
One team… two locations – or virtually in the comfort of your own home!
There are a number of ways you can begin your journey to better breathing with Air Physiotherapy.

You can access our respiratory physiotherapy services from anywhere in the world via our online treatment service. All you need to do is book online and we will conduct your treatment using Zoom.

If you prefer face to face consultations, we are able to offer these from two London locations – Wimpole Street in Marylebone and at Complete Physio on the Fulham Road in Fulham.

We also offer home visits. Please complete our contact form and we'll get in touch with you to discuss your needs.
Learn more about our services here or click below to book a consultation with us and begin your journey to better breathing today.